one of the great things about living in indonesia is that anything can be delivered. i don't feel like we've fully taken advantage of that yet (because we're afraid to call stores and ask for something to be delivered... understanding indonesian on the phone is hard!) but we did take advantage of the MONKEY SHOW that was delivered to our house. :) a guy on a motorcylce rides around beating his drum to let everyone know that he's outside with the monkey (every item for sale has a different sound so people know what is available as the seller passes the house). we happened to be outside and somehow got that our neighbors (whom we had never really met) thought it was too expensive to pay for the show, so i suggested we split the price. it was about $.80 each. the 10-15 minute show was well worth it! the kids loved it!
here are some of the tricks the monkey did...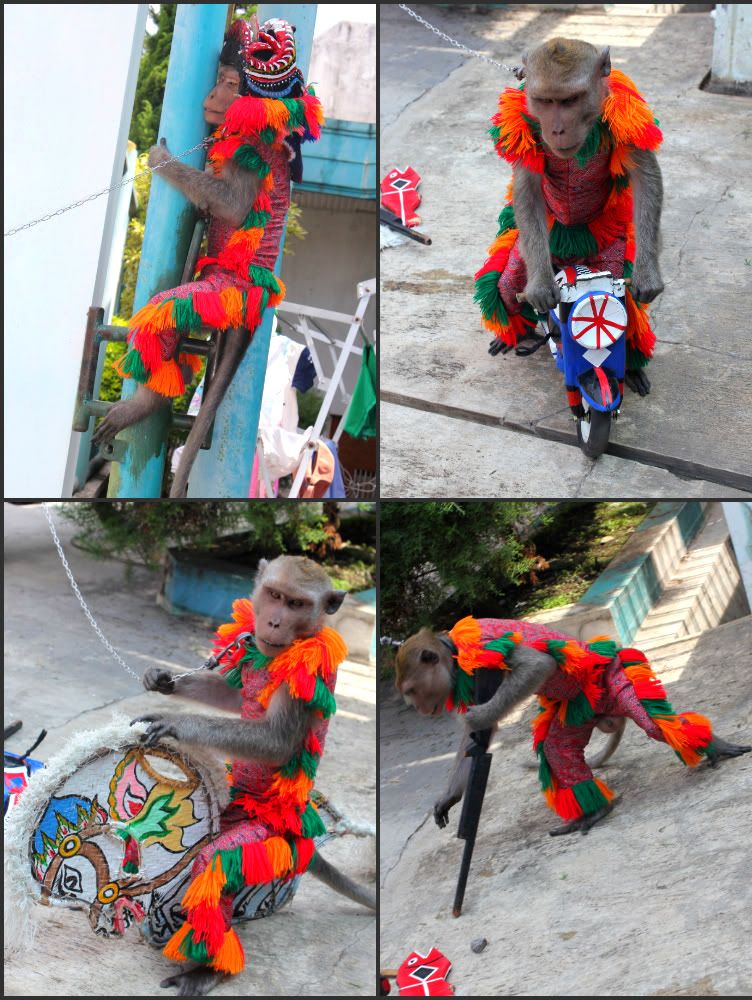 mary wanted to go sit with the neighbors whom we'd never met (of course) and they loved it! she danced to the drum and had a great time. and then she said she wanted to go into their house and walked right in. luckily, 'dropping in' is very welcomed here so they were excited to have us. the next day we were walking by and were invited in again. so, the monkey and my pushing daughter helped us make some new friends!
oh, and in case you happen to notice her outfit, i did too. she had on a tie-dyed tank top and blue bloomers (those aren't underwear, she had a diaper on under them). that is a very usual outfit for her. our babysitter lets her pick out her clothes so i usually come home to something like that... well, i hope that mary is picking out the outfits and not ibu sri. that would be weird if ibu sri put her in something like that. i'm sure our neighbors just think it's a cultural difference. :) the first thing out of danny's mouth when we got home was, could you at least put some shorts on her. oh well.
i couldn't take many pictures of the kids watching the monkey because it kind of scared me not to have them with me. at one point mary knelt down and said 'hi monkey' closer than the monkey liked and he hissed at her and showed his teeth. mean monkey! but, i'm going to ask my neighbor for pictures because he was taking a lot of luke squealing at the monkey.
just one of the perks of living in indo.